News relevant to aviation in general and FAVV
specific
Circus Airfield Events:
A safety briefing will be

held at Circus Airfield on Saturday 28th November

2015. It will be combined with a year-end bring-n-

braai. All interested parties are welcome to attend.

The meeting is expected to commence at 08h00Z

(10h00 local time).
There is a place in the
world where the approach
to the runway looks like this!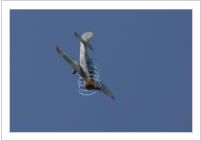 A bit of disaster at
Grand Central
Sudden stormy weather and strong
winds wreaked havoc at Grand
Central on the Friday 24th Feb 2012.
Quite a few aircraft were damaged,
some inside of hangars when the
doors of the hangars were blown over.
Photo: Christo Swarts
If you have some news you
would like to have placed on
this page, please fill in the
form on the right, or send the
information to

:
webmaster@favv.co.za